Your Lie in April(2014-2015)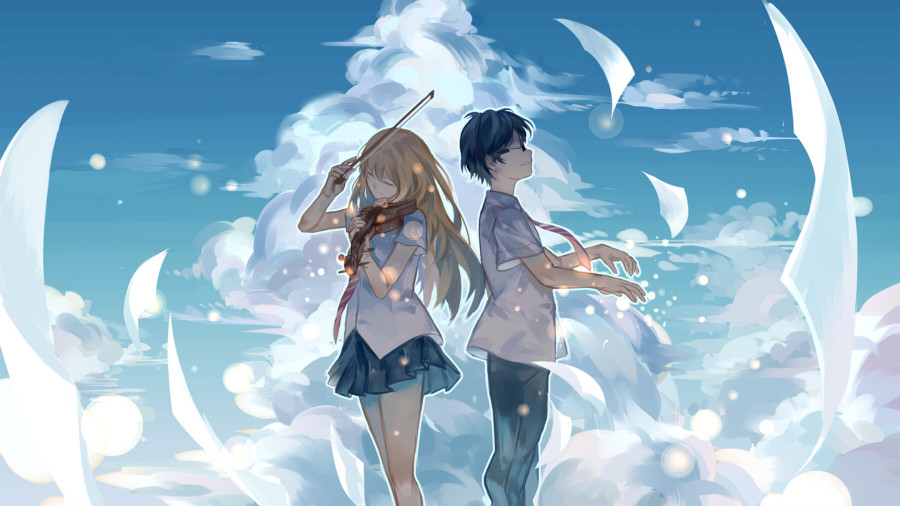 | | | |
| --- | --- | --- |
| Your Lie in April - PROMOTIONAL TRAILER | Your Lie in April - Kaori x Kosei only performance together | |
| | | |
Review of Your Lie in April
Manga(Apr 2011-May 2015) 21VOLS
W: Naoshi Arakawa
Anime(2014-2015) 22EP
D: Kyohei Ishiguro
W: Takao Yoshioka after the Manga by Naoshi Arakawa
M: Masaru Yokoyama
MAL 8.86
ANN 8.455
IMDB 8.3
Characters:
MC
Kōsei Arima (有馬 公生 Arima Kōsei)
Tsubaki Sawabe (澤部 椿 Sawabe Tsubaki)
Ryōta Watari (渡 亮太 Watari Ryōta)
Kaori Miyazono (宮園 かをり Miyazono Kawori)
SC
Saki Arima (有馬 早希 Arima Saki) Kosei's mother
Takeshi Aiza (相座 武士 Aiza Takeshi)
Nagi Aiza (相座 凪 Aiza Nagi) sister
Emi Igawa (井川 絵見 Igawa Emi)
Hiroko Seto (瀬戸 紘子 Seto Hiroko) Saki Arima's friend
Koharu Seto (瀬戸 小春 Seto Koharu) daughter
"Your Lie in April" is special, in a very special way. While a Romance, it is most definitely not a simple Romance, but a complex series of relationships of extraordinarily perceptive depth and resonance. The Tiger Mom of Asia, is a well known type, Mothers who demand that their children excel and are willing to push to and beyond their limits. To a certain degree, this is admirable, and shows the power of a Mother, to change, not just her children, but the entire culture of which they are part. When a Mother demands her children perform to the highest degree, children will and do respond.
But the line between requiring maximum effort and just simple child abuse is thin, and hard to demarcate. Lie is as much about Child Abuse and how that effects children, as it is about Romance.
Lie is also about Music, and how emotions are transmuted between individuals and to your soul, by sounds. Music can connect person to person as anyone in a Choir can tell you, and Lie lays out in detail how this happens, and what it means. And Lie is also depth psychology of an artist, struggling to manifest in some physical form, that spiritual inspiration which drives all Art. And Lie is also, riotous, slapstick comedy which happens at the most inauspicious times, when you are least expecting comedy.
A little boy, Kosei Arima, a natural prodigy at the piano, is savagely beat and abused by his own mother into becoming a piano superstar at 5, winning all competitions, and losing his soul. This anime is unbelievable in its depth psychology as we plumb deep into that tortured heart of darkness inside Kosei, and how he comes to be saved by his precious friends; the MC chart above lays out some of these detailed connections of human depth and support.
As we plunge front and center into his agony, we begin to feel his suffering as he loses his ability to hear notes.
Be careful, this one is in Clannad territory, it will play your feels like a piano with sharps and flats across a universe of tears and there be no escape. You hear the train coming, you see the onrushing train lights, but you are frozen in place by fear, and you cannot escape.
Unbearably intense. Masterpiece is often bandied about, but for "Your Lie in April" no other word suffices, and along with red-hot lava feels, the artists throw in aromatic buffoonery and comical sketches with the standard anime tropes of deformed faces and such. You may be crying at one moment, and then laughing at the very next, as it whipsaws you, cutting through layers upon layers of feels until we are pressing the accelerator of metal onto metal, hoping for some relief, and then the story telling heaps more pain upon already festering wounds. As you might expect, start with a full box of tissues 'cause you will need them. And lying out in the oceans, late in the series, we hit the giant iceberg of a "Lie" which forms the nucleus of all that happens here, and that "Lie" forces to Truth what we suspected all along, and we sink with all on board.
A Masterpiece? Yes, most definitely!
But why take this ride? Why feel Kosei's pain? And yet that pain forces out, the detritus of your dreams, clears the fog around your hapless heart, and with that, the world comes newly born. You think I lie? Then climb this mountain of antagonistic pain and feels which you never thought you even had inside.
Yes, a masterpiece which can shatter your dreams and scatter your feels across a field of dreams.
Art, great art, after all is nothing but a series of dreams, a work of pure imagination. If you build it, they will come.
One Ep especially puts on display what the entire series is all about in
"EP10 The Scenery I shared with you".
Kosei falls apart during his performance because his dead mother haunts his very soul.
When you fail to translate a loved one from Present Tense to Past Tense the result is that they haunt you now, in the Present and into the future, they possess you, you are their possession held captive in a cage, you belong to them and are unable to escape. This is an axiomatic rule in human relationships when that relationship breaks and is lost either through death or by being rejected, "dumped", I believe, is the current expression. A love relationship which dies, is every bit as painful as the actual physical death of a loved one.
If grief is not properly handled, if lost love is not properly buried and mourned, a ghost remains, the loved one lost remains with you forever.
By concentrating on Kaori, Kosei is able to finish in an entirely different space leaving the audience and judges and fans highly confused about what has just happened. But the head judge knows exactly. He dismisses Kosei with contempt for presenting his personal problems in public during a performance.
Can Kosei escape the shadow cast by his mother?
Kaori Miyazono, a violinist who was inspired by Kosei, turns the tables, and inspires Kosei becoming his Muse. How this trope plays out in the Anime is intensely exquisite, and it all centers around the "Lie in April" and his two closest friends, Tsubaki Sawabe and Ryota Watari,
who become the stable platform of his life. These four, wonderful friends, become the life preservers which save each other when the ship sinks.
Yes, "Your Lie in April" is a Masterpiece. If you want to feel intense feels, you will not miss this magnificent work of art.
Highly Recommended.
Whatever you do, in Anime, don't
miss "Your Lie in April"
because the feels will haunt you.
"Your Lie in April" can map out
for you, the contours of
the human heart and your own!


Folcwine P. Pywackett